iWAM Resource Guide Update!
Over 10 years ago, The Institute in cooperation with jobEQ published the iWAM Resource Guide. It was the first reference document that explained not only what high and low scores on the iWAM scales mean, but also identified potential assets and liabilities of each as well as jobs or careers to which strong or weak patterns might connect.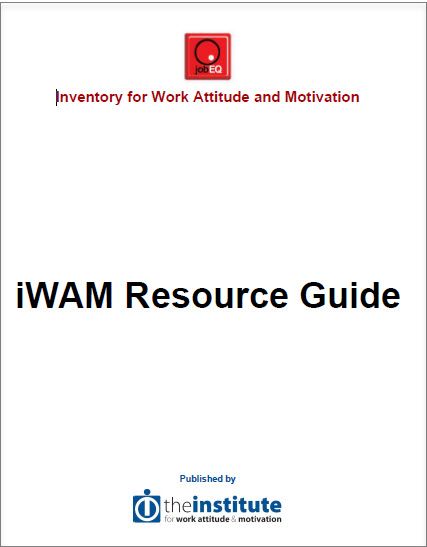 The 2020 revision has the following improvements:
There is an expanded introductory section that explains various aspects of the iWAM report such as the difference between "absolute" and "relative percent" scores.

There are updated definitions and explanations in all categories based on what we've learned about the iWAM in the last 10 years

The respective pages dedicated to each iWAM scale have been reformatted to make it easier to use.
The updated iWAM Resource Guide will be available in July.
Using the iWAM Resource Guide
Many certified professionals and client organizations package the Resource Guide with the iWAM report (in hard copy or electronically). This provides the individual taking the test with a reference document that proves useful in checking their iWAM results at a future time.
The iWAM Resource Guide is available to the public from The Institute or can be purchased on a single copy or bulk basis by certified professionals.
For more information about the iWAM Resource Guide, using it with clients, or purchasing it, contact The Institute (carl@iWAMinstitute.com).
---